WEDDINGS AND SPECIAL EVENTS
Make the Best Day of Your Life Truly Unforgetable!
Make the Best Day of Your Life Truly Unforgetable!
The breathtaking natural surroundings, lakefront location, and family warmth of Camp David provide a perfect setting for your special day. Your special event will be a memory to treasure forever!
NO SHORTAGE OF BEAUTIFUL VIEWS
What our Clients are Saying
Frank DeMarco Read More
Our family celebrated our parents 90th birthdays at Camp David in Early June. At times there were 50 people. The outside was absolutely perfect and accommodated everyone! The kids had a great time swimming off the dock. Bantam Market catered a lunch and dinner- the food and service was great! The owner, Dave, was friendly, accommodating and responsive. He even gave my Dad a boat ride around the lake for his Birthday which was enjoyed by several of us. I would highly recommend Camp David for a large family reunion or gathering.
Karen Oppenheimer Read More
We rented Camp David for a family reunion in June of 2022. We were around 24 people all together. The property was well suited for a large gathering but also offered the opportunity for little groups to hang out as well, either in individual cottages or outside. Some of us enjoyed kayaking and swimming while others just relaxed on shore. There were lots of hiking and walking areas close by. The owner was very nice and was available for anything we needed. We have already reserved again for next year!
Gisela Cruz Read More
Definitely had a wonderful time at Camp David with my family and friends this past weekend, as it provides a little bit of everything for all ages. From kayaking, to a relaxing boat ride, to sitting infront of the lake watching the sunset. Such a calm and peaceful place to enjoy when you need a quick getaway. I highly recommend and will definitely be back soon!
Maria Rosales Read More
Visited Camp David this passed weekend and I have to say that we had an incredible time. My kids had a blast playing in the water and going to the Strawberry Festival in the nearby town. I absolutely loved the boat ride around the beautiful lake, it was an amazing weekend. Will definetely recommend.
Previous
Next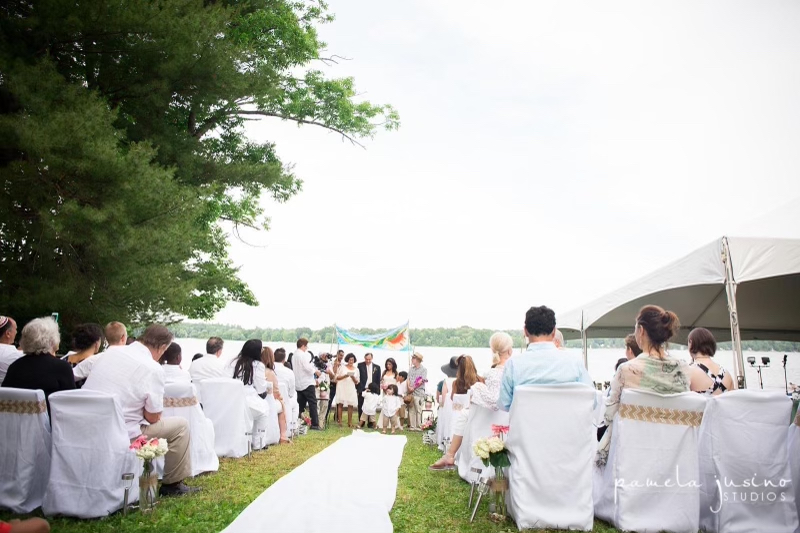 THE SPACE FOR PERFECT PICTURES
Accommodations and activities
When you choose the beautiful scenery of Bantam Lake to be the setting for your nuptials you're sure to have a ceremony you will remember forever.
Outdoor wedding ceremony location accommodating 20–100 guests
Bridal shower, rehearsal and gift opening locations available
​A venue full of charm, elegance and history.
When looking for the perfect place to say, "I do", choose the gorgeous Bantam Lake in Connecticut.